Now that you've been approved to complete Dollys, lets get into how to navigate the app to help you book some jobs.
Dolly highly recommends that Helpers and Hands have GPS or the location setting turned on while using the Helper app and working on Dollys. For any issues that may arise, Dolly support must be able to verify arrival at a customer's location for issues including cancellations, customer no-shows, etc.
Job Listing Page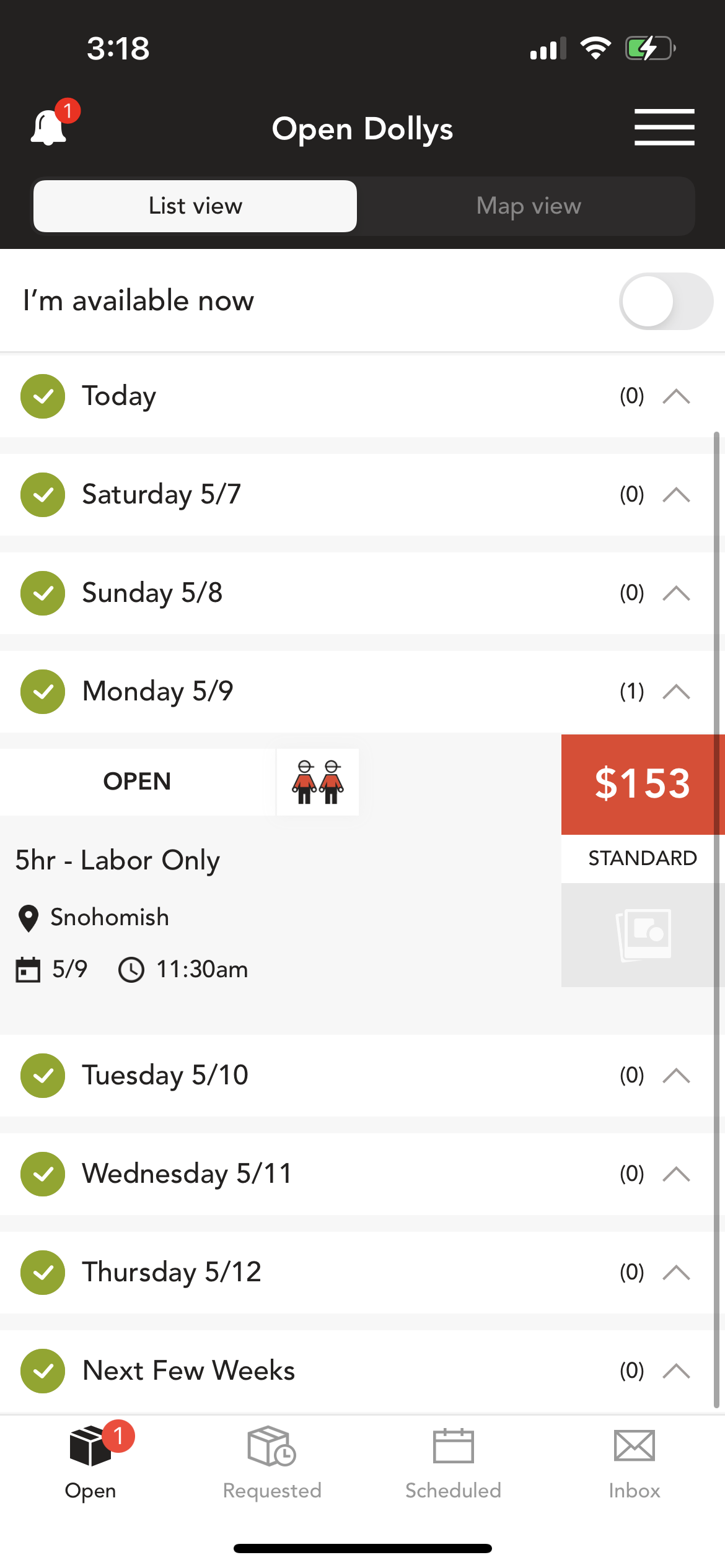 Iphone Layout
There are different tabs in the Dolly Helper app. Each tab helps you access different information. Use this article as a guide to help you navigate the Dolly Helper app (Experience may be slightly different between iOS and Android apps).
Tabs
Iphone Tabs

Android Tabs

Open
These are the available Dollys in your service area. The badge on the open tab indicates the number of available Dollys.
Available Dollys are broken up by days of the week. Tap on a Dolly to view more details.
Requested
This allows you to view all Dollys you've requested, both in the past and in the future. You will be able to see the status of requests you have sent to other Helpers, as well as if the Dollys you requested have been completed, taken by another Helper, open, or cancelled.
Scheduled
This tab shows your assigned upcoming Dollys. Remember to review this tab often to make sure you don't cause scheduling conflicts for both yourself and the customer.
Inbox
Shows your message threads between you, customers, and any Helpers or Hands you are scheduled to complete Dollys with.
Alerts
This is now displayed in the upper right corner of the app.
Displays important notifications about Dollys you are scheduled on, adjustment alerts, completed Dollys, or important messages from Dolly Support.
Menu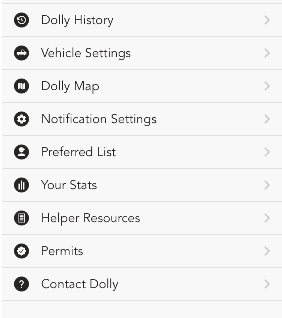 The main menu can be access using the menu button (3 stacked lines) on the upper left side of iPhones or the bottom right on Androids. This menu provides you with a list of useful pages containing the following information:
Dolly History
Allows you to keep track of your earnings from completed Dollys. You can also view cancelled Dollys you were scheduled on should you need to reach out to the Helper Team. At this time cancellation fees are not consistently displayed here, refer to your weekly earnings emails for a complete set of compensation information.
Vehicle Settings
Lets you add and remove qualified Trucks and Cargo Vans from your Helper Account. Should you need to add a trailer, you will need to add your vehicle towing the trailer (again) along with it. The Vehicle Settings menu does not display to Dolly Hands, as vehicles used by Hands are not tracked.
Dolly Map
Shows a map of the Dollys around you that are available. It will show you the estimated route of a Dolly, you can tap on a Dolly to view more information and get to the Dolly's details. To access the map view, click on the map view button towards the top of your screen.
Notification Settings
There are different ways to manage notifications in the Helper app. Here is where you can turn notifications on / off for different days of the week and, should you choose, disable notifications during the work week.
Distance: You can adjust the radius of which you see Dollys from 5-50 miles.

Misc. Details: You can check/uncheck for each box.

Example: Unchecking "Show 2-Helper Dollys" means you won't be notified of any 2-Helper Dollys.

Push Notifications: This is how you are notified of alerts. Ensure this is checked to receive notifications. You might need to check your device's settings to make sure that notifications for the Helper app are turned on. You can use "Send Test Push Notification" to test if you receive push notifications.
Preferred List
Here you can add and remove Helpers and Hands from your preferred list. Only Helpers in your current / adjacent markets are displayed here.
Your Stats
Shows you the number of Dollys you requested, won, relisted, and completed in a certain amount of time, from 7 days to 90 days.
Helper Resources
A Knowledge Base (this one!) that has various guides how things work here at Dolly including how to operate the app, how pay works, how adjustments work and more!
Permits
Some markets will require permits to be displayed for certain Dollys to be carried out in the area. This is mostly for emergency use if requested by the authorities / police. 
Contact Dolly
This menu gives you access to text Dolly support and the ability to message the Helper Team directly via email.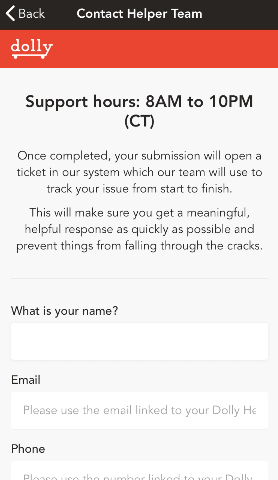 21
11
Was this article helpful?
16 out of 21 found this helpful
Can't find what you're looking for?
Our customer care team is here for you!
Submit a request
Our team usually replies within 1 hour.