What are Helper / Hands ratings?
Ratings are a 2-way quality measurement system on the Dolly App. Customers rate their Helper / Hand and you also can rate the customer. Your overall rating is an average of the ratings on each of your Dollys. One bad review will likely not impact your overall rating. Helper / Hand ratings will help you understand how satisfied customers are based on their experiences with you.

How can I improve my rating?
Ratings are subjective to each customer, however there are certain factors that will help you get a top rating. Some key factors include:
Excellent customer service

Great communication

Timeliness

Vehicle quality (Helpers)

Friendliness

Attention to detail

Coming prepared with the right equipment

Efficiency in moving
What scale are ratings on?
Both customers and Helpers / Hands are rated on a scale of 1 to 5. 5 indicates an excellent experience and 1 indicates a poor experience.
How do I rate a customer?
Once the Dolly is complete, mark it as complete in the app.

Note: If you are a Hand, you will have to wait until the lead Helper marks the Dolly complete.

Once the Dolly is marked as complete, each Helper / Hand will get a prompt via the app that looks like the screen-shot below:




Rate the customer on a scale of 1 to 5 - with 5 being the best and 1 being the worst. If applicable, fill out the feedback form with any details that led to your rating.

Once you have completed the rating, click "Update". The ratings should process within the next 24 hours!
Customers follow a similar process to rate each Helper / Hand.
Frequently Asked Questions
What are the ratings based on and what gets rated?
Ratings are retrieved from the Dolly Customer App. Options for ratings include: Review of Customer, Review of Helper, Review of Hands, Review of Dolly Experience, Review of Dolly Price. Helper / Hand ratings are based on the overall experience that a customer had during the Dolly.

What happens if a customer gives a < 5 star review?
If the customer provides a less than 5 star review for the Helper / Hands, they are prompted to answer a few more questions so we can understand why they're rating their experience so low. The screenshots below show the options that customers can select for why they gave a <5 star review.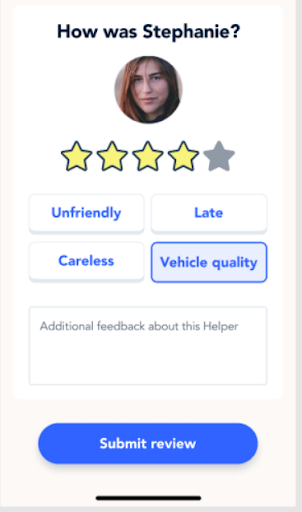 How is this feedback provided to Helpers / Hands?
This feedback is provided to Helpers / Hands each week in your Weekly Helper Scorecard.
How can I remove my low rating from my score?
Although you may be upset about the low score, we are unable to remove ratings. It's helpful to remember that your overall rating is averaged out across all the Dollys you complete so one low rating isn't likely to tank your overall rating. Reviews help to keep everyone honest so we don't remove them for customers or Helpers / Hands alike.
How often does my rating update?
Ratings are updated daily. As soon as a Dolly processes, wait 24 hours for the reviews to go through before they impact your overall rating.
Why do we rate Customers?
Feedback goes both ways and we value it from all sides. We want to hear about your experience with the customer so that we can track any trends and provide feedback to customers if an experience is not up to Dolly standards.
Where can I see my ratings?
In the Dolly Helper App, click on the menu button (the button with the three lines in the upper right hand corner). Click "View profile" to see your overall rating in a star format.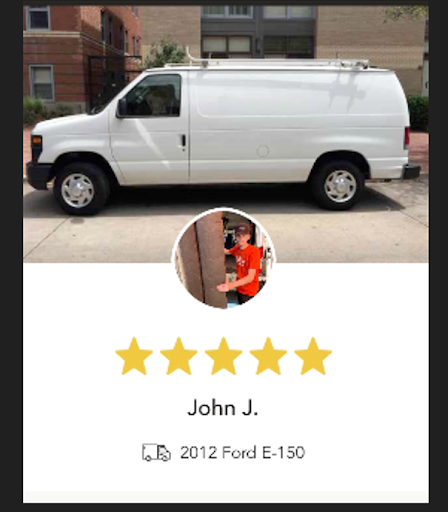 Where can I see my reviews?

Each week on Friday you will receive your weekly report via email with your overall rating (average of all Dollys completed) and your reviews left weekly by customers. Leaving a rating and / or review is optional for customers, though encouraged.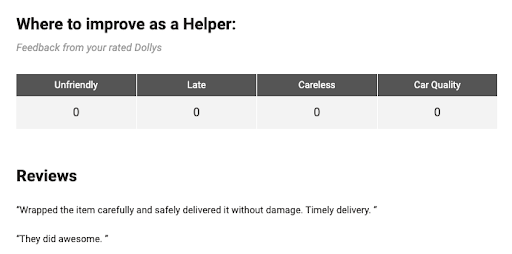 Are Assistants eligible to receive ratings?
Yes, and the written reviews will be included on the Lead Helper's Weekly Report.
So, what do these ratings mean to me?
Ratings are important as they provide a base level of feedback. We monitor the ratings to ensure a consistent, high-quality experience for everyone who engages with the Dolly platform. We often find that higher ratings also mean happier customers which can lead to better tips!
1
-1
Was this article helpful?
0 out of 1 found this helpful
Can't find what you're looking for?
Our customer care team is here for you!
Submit a request
Our team usually replies within 1 hour.